SATA Sierra M6-2
The Sierra Protocol Test System is the 6th generation in the leading line of SATA protocol test solutions from the leading manufacturer of protocol test systems. Designed for the current evolution of SATA (SATA 3.0), the new Sierra product family sets new standards for performance while incorporating a complete range of features in a single, economical system.
SATA Sierra M6-2
Complete solution for Serial Attached SCSI (SAS) and Serial ATA (SATA) Protocol verification
Leveraging Teledyne LeCroy's extensive expertise in high-speed serial data analysis, the Sierra provides the most accurate capture, display and analysis of both SAS and SATA data traffic at data rates up to 6 Gb/s. The Sierra product family includes the capability for protocol analysis, traffic generation, host and/or device emulation, and error injection, all within one system. The platform supports all features, and customers can configure specific features or add features later to match their requirements and budget.
With the flexibility to adapt to a user's current and future needs, the Sierra M6-2 System brings a new standard for performance, capability and flexibility to SAS/SATA protocol test systems.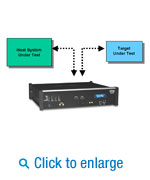 The Only Complete Protocol Test System for up to 6G
The Sierra SAS/SATA Protocol Test System combines creative industrial styling and a performance-enhancing native PHY with expert software features that minimize debug and development time. The Sierra platform integrates the best of the STX and CATC Trace software suites and adds additional capabilities at both the hardware and software levels.
Detailed Protocol Specific Support
Sierra's analysis and design suites are developed specifically for use with the SAS and SATA protocols, and provide extensive protocol decoding, expert error analysis, and complete user support when decoding and viewing the recorded traffic. This extensive protocol support, combined with the different traffic views, advanced triggering, data filtering, traffic generation, and error injection capability, allows engineers to rapidly become familiar with SAS- and SATA- specific issues, and quickly understand new issues the first time they encounter them. Every engineer becomes a protocol expert with the support of Sierra's detailed expert analysis.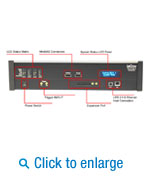 Innovative, Flexible, and Compact System Design
The Sierra platform is designed for convenience, portability, and functionality. Both data bus ports are located in the front for convenient access, as are all system controls and connectors (other than the AC power cord). The Sierra's array of status indicators includes information on negotiated link speed, protocol error detection, link detection, and whether OOB or protocol frames are currently being sent over the link. The LCD screen reports which user is currently connected to the Sierra system, the system IP address and system status. Host connectivity to the Sierra includes support for both USB 2.0 and Gigabit Ethernet. Expansion ports allow for future enhancements, such as providing DC power to a drive.
Industry's Most Efficient Lock-time
One of the biggest new features for the Sierra platform is the addition of native PHYs. The native PHYs offer many benefits over implementations found in other 6G test solutions, including better capture performance during speed negotiation and power management phases, and improved response time with our comprehensive design suite. See more, miss less with the most capable PHY in the market.
| | | |
| --- | --- | --- |
| | Native PHY | Current Implementation |
| Worst Case Lock Time | < 200ns | > 65us |
| Response Latency | 9 DWORDS = 60ns | 15 DWORDS = 100ns |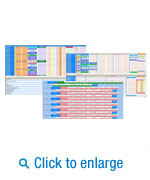 Expert Analysis Software
From the link layer to the application layer, the Sierra analysis suite offers a wide range of traffic views and tools to enable engineers to easily zero-in on areas of interest. For applications at the link layer, the column and Link Tracker views show the handshaking of primitives and frame composition from SOF to EOF. Data can be viewed in 8b, 10b, and scrambled formats. When working at the frame level, the Text View shows exchanges of frames and accompanying primitives. For viewing commands and frames in a time-ordered fashion, the Spreadsheet View gives the user the flexibility to easily filter out unwanted primitives and frames to easily focus on what is important. The Sierra also features a hierarchical view for the application layer, logically assembling frames and primitives that are related to commands. The protocol-specific hierarchical view allows users to easily view command definitions, completion and status. This capability comes especially handy in environments with outstanding commands, large gaps of traffic between command start and command end, or other complexities such as Time-Domain Multiplexing. The commands can then be drilled-down to view the frame and link layers. All of the views for expert analysis can be used simultaneously and are automatically synchronized and displayed within one application. When developing or debugging, one size does not fit all. View the traffic in the manner most meaningful for the task.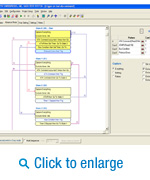 Pin-point triggering
From looking for a particular frame, to more complex events such as timing and status between events, Sierra's logical triggering algorithms give the engineer the ability to quickly define root issues to look for during capture. Sierra's powerful trigger capabilities include up to a 24-level state sequencer, 4 independent timers, multiple counters, the ability to pre-filter at each state, and the ability to assign individual triggers to each port pair. Defining fields within frames and/or commands is also easy thanks to protocol- specific awareness. Spend more time engineering and less time looking with the deepest trigger available.
Transparent Intelligence
With Sierra's transparent post-processing, searching, and hiding of unwanted traffic, analyzing the captured traffic has never been easier. Combined with protocol-specific awareness, post-processing allows the engineers to easily determine what was captured without having to scroll down and keep notes. From performance statistics, such as command throughput and completion time, to viewing how many times a command, frame, bus event, or primitive occurred, the traffic summary enables the engineer to easily track and find areas of interest. Sierra ZeroTime™ search immediately identifies what was actually captured, eliminating the possibility of searching for traffic that does not exist in the trace. Why waste time looking for events that never occurred? Use transparent intelligence to easily track-down and display areas of interest.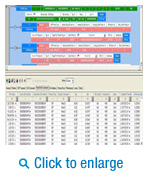 Statistics to Monitor Performance
Sierra provides a wealth of statistical and performance reports, providing the means to easily monitor command execution, errors, and other data traffic issues. Selecting from the broad range of reports provides each customer with rapid access to the information you seek.
Compliance Test to Ensure Interoperability
The Sierra system supports compliance testing to SAS and SATA standards to help insure interoperability between your product and other products under development or already on the market. By using a complete suite of SAS or SATA compliance tests, you have the assurance of an industry-standard test method.
Comprehensive Design Suite
From initial prototype to widespread industry adoption, the Sierra features a protocol-specific comprehensive design suite that allows development, testing, debugging, and validation at every level of development. The comprehensive design suite features three distinctly powerful and capable test solutions that, combined with the powerful analysis suite, enable faster development time.
The Sierra Trainer is a script-based traffic generator that gives engineers the ability to control what is being sent down to the bit level, including flexibility for changing OOB waveforms, defining IDLE traffic, and transmitting user-defined data patterns for customized testing throughout the design process. Also included is support for SAS compliance with our SAS Compliance Test Suite written in conjunction with the UNH-IOL (University of New Hampshire Interoperability Lab). The host and device emulators feature easy-to-use logic control and protocol-specific command and frame definition. Engineers can easily use the emulators to test command support and error-handling features of their device throughout the design bring-up process. The host and device emulators also support Serial ATA protocol compliance testing.
Sierra includes extensive error injection capability, and supports the InFusion™ 3.0 software test suite. InFusion provides the ability to monitor live traffic on heavily-loaded data buses at full data rates, and identify and modify traffic patterns "on-the-fly" to introduce programmed error conditions for testing error identification and recovery capabilities in the device under test. Examples include support for changing dwords, disconnecting links, and causing various errors (such as CRC and running disparity) at defined or random intervals. The InFusion test suite is especially useful during the final test and system integration cycles. Gain an edge over the competition with Sierra's comprehensive design suite.